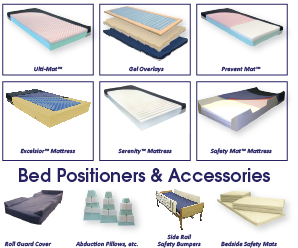 Our line of Pressure-Eez® mattresses and Comfort Cloud® air systems and accessories promote skin integrity management through the management of friction, shearing, moisture, heat and/or pressure.
Our support surfaces feature a variety of mediums including foam, fiber, gel and air. Each medium is designed for a particular application and setting; such as pressure redistribution or positioning in long-term care, hospitals or homecare.
Many of our products feature covers which are integral to the performance of the product. Urethane-backed stretch nylon helps reduce interface pressure, friction and shearing while remaining air permeable to dissipate heat and moisture. Other covers are designed to have a low moisture vapor transmission rate and therefore provide incontinence protection. Whether you need a bariatric mattress, side rail safety bumpers or a gel overlay, our line of support surfaces has a product designed to meet your specific requirements.
Support Surfaces

Available in foam or fiber, Pressure-Eez® mattresses provide excellent pressure redistribution and include options such as elevated perimeters, heel pillows, visco-elastic layers and sculptured surfaces. Many of our mattresses are Medicare reimbursable.

Designed to be placed directly on top of the mattress these gel and foam mattress overlays are designed for the prevention and management of pressure sores.

Air products are an excellent option for providing superior therapeutic pressure redistribution and treatment. Hudson Medical's air products are not only efficacious; but with our new and improved quiet pump technology they are easy to use and designed for in-home use.

Using higher density foams Hudson Medical is able to create products designed to meet the specific needs of bariatric clients.