Solid Seat Insert
Made from a strong multi-layered wood composite, this stabilization board prevents the hammocking of wheelchair cushions and improves seating posture by providing a flat seating surface. Custom size requests are easily accommodated

Universal Amputee Seat
Comfortable seating surface with a 6″ x 6″ wide single stump support pad. Constructed with a solid wood base and a 2″ thick foam core covered in a Shear Control™ cover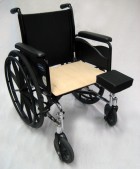 Hinged Amputee Seat
Designed for an above-the-knee amputee, the solid wood seat pan has a locking leg extension which can be lowered to make transferring easier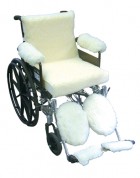 Comfort Covers™
Available in 100% wool or deluxe polyester fleece, these covers provide a soft cushion for pressure points such as the elbows, arms, buttocks, heels and calves

Safety Wedge
Designed to provide a comfortable backward tilt for patients who have difficulty maintaining an upward seating position. Comes with a removable, washable navy polycotton cover. Also available with or without an abduction post.


Swivel Seat
Swivel Seat swivels 360˚ for easy turning to get in or out of any seat or chair. The "lazy susan" style has silent ball bearings for easy turning to get in or out of any seat or chair. 15″ diameter; super lightweight, yet weight bearing up to 300 lbs.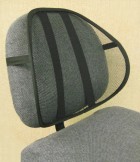 Ortho Cool Mesh Back Support
Ortho Cool Mesh Back Support has a mesh fabric that allows air-flow for cool comfort. The ergonomic lumbar support system comes with an elastic strap for seat attachment. The Ortho Cool Mesh Back Support is portable for auto, home or work

Portable Folding Seat
The ergonomic design of the Portable Folding Seat helps promote perfect posture. Weighing under a pound, it easily fits any seat or chair. The Portable Folding Seat has a sturdy, nylon base and is super compact. Portable for auto or home. Compact enough to slip into a purse or carrying case for seated support anywhere!

Comfi™ Cushion
Polyurethane foam core with slight wedge design maximizes posture and seating comfort. Relieves back pain as the coccyx cutout allows the tailbone to remain suspended in the air reducing pressure on the lower spinal column. Includes polyester knit cover


Ulti-Mat® Safety System
A wide range of bolsters, wedges and abduction posts designed to assist in patient positioning. Helps prevent decubitus ulcers and provide for greater client comfort

Abduction Pillow
The Wheelchair Abduction Pillow securely and comfortably holds the legs in a desired position while seated and assists in correct seating posture.

Lap Top Seating Positioner
Designed with patient safety in mind, this high resilience foam positioner with an easy to clean black vinyl cover securely fits behind the front armrest rails of a standard manual wheelchair, preventing patients from falling while helping to maintain proper seating posture